Written by Grant G
Dictatorships, third world countries, tyrannies and the death of America are Donald J Trump's latest refrains on Truth Social, which get repeated widely on Twitter, Facebook, along with many other social media sites......Donald Trump is now calling on his supporters, on Republicans and anyone else to protest in the streets over his impending soft arrest(surrendering in person to an indictment regardless of the severity of the charge).
Trump wants the country to rage and protest in the streets over the fact he has to answer for crimes, for his crimes, albeit crimes(The Stormy Daniels affair and hush money cover-up) that are very minor in the scheme of things.
Donald Trump is getting his MAGA base all frothy and threatening over these minor criminal charges against him, a crime he is 100% guilty of, he had the tryst, cheated on Melania, with Stormy, he had Michael Cohen pay off Stormy to keep her silent, then Trump through financial accounting tricks used donated campaign funds to pay the hush money, he ran the payments through the Trump organization and even claimed it as a tax deductible business expense....
That is the crime for which he must answer to next week, in person.
An indictment means, for Trump, a quick pre-arranged arrest and, just as quick, a prearranged release from custody....Trial date(s)and appearance dates scheduled.....These crimes, even when Trump is found guilty will not result in ANY prison time and still Trump deems this action as grounds for mass protests and mayhem in the streets......(gimmee a fucking break, oh the humanity, Trump having to answer for crimes, fucking snowflake)
Here is what Trump has bleated in the last few hours....(The all caps are Trump's doing)
https://truthsocial.com/@realDonaldTrump/posts/110043916334915208
https://truthsocial.com/@realDonaldTrump/posts/110044039949982181
"OUR NATION IS NOW THIRD WORLD & DYING. THE AMERICAN DREAM IS DEAD! THE RADICAL LEFT ANARCHISTS HAVE STOLLEN OUR PRESIDENTIAL ELECTION, AND
WITH IT, THE HEART OF OUR OUR COUNTRY. AMERICAN PATRIOTS ARE BEING ARRESTED & HELD IN CAPTIVITY LIKE ANIMALS, WHILE CRIMINALS & LEFTIST THUGS
ARE ALLOWED TO ROAM THE STREETS, KILLING & BURNING WITH NO RETRIBUTION. MILLIONS ARE FLOODING THROUGH OUR OPEN BOARDERS, MANY FROM
PRISONS & MENTAL INSTITUTIONS. CRIME & INFLATION ARE DESTROYING OUR VERY WAY OF LIFE.
NOW ILLEGAL LEAKS FROM A CORRUPT & HIGHLY POLITICAL MANHATTAN DISTRICT ATTORNEYS OFFICE, WHICH HAS ALLOWED NEW RECORDS TO BE SET
IN VIOLENT CRIME & WHOSE LEADER IS FUNDED BY GEORGE SOROS, INDICATE THAT, WITH NO CRIME BEING ABLE TO BE PROVEN, & BASED ON AN OLD & FULLY
DEBUNKED (BY NUMEROUS OTHER PROSECUTORS!) FAIRYTALE, THE FAR & AWAY LEADING REPUBLICAN CANDIDATE & FORMER PRESIDENT OF THE UNITED STATES OF
AMERICA, WILL BE ARRESTED ON TUESDAY OF NEXT WEEK. PROTEST, TAKE OUR NATION BACK!"
__________
And if that wasn't bad enough.....a few hours later Trump posted this...
https://truthsocial.com/@realDonaldTrump/posts/110045231517991534
"IT'S TIME!!! WE ARE A NATION IN STEEP DECLINE, BEING LED INTO WORLD WAR III BY A CROOKED POLITICIAN WHO DOESN'T EVEN KNOW HE'S ALIVE,
BUT WHO IS SURROUNDED BY EVIL & SINISTER PEOPLE WHO, BASED ON THEIR ACTIONS ON DEFUNDING THE POLICE, DESTROYING OUR MILITARY, OPEN
BORDERS, NO VOTER I.D., INFLATION, RAISING TAXES, & MUCH MORE, CAN ONLY HATE OUR NOW FAILING USA. WE JUST CAN'T ALLOW THIS ANYMORE.
THEY'RE KILLING OUR NATION AS WE SIT BACK & WATCH. WE MUST SAVE AMERICA!PROTEST, PROTEST, PROTEST!!!"
___________________
Here is ultra-maga issuing threats......This woman seems a little deranged
https://twitter.com/i/status/1637205355787591681
Mores calls to violence from the lunatic right..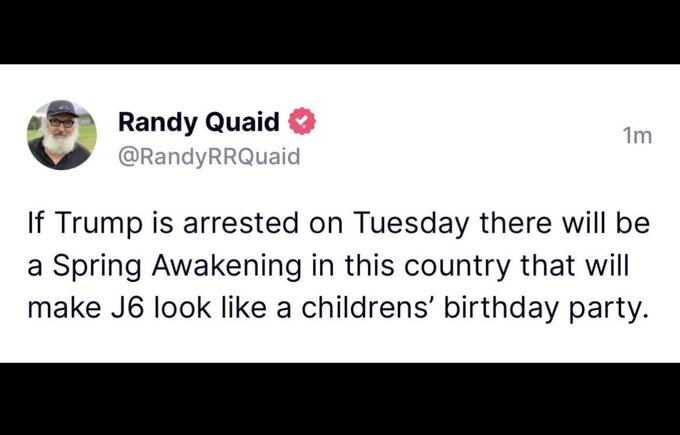 ___________________
Donald J Trump is facing far more serious crimes, ....From election interference in Georgia, to inciting the J6 riot and attempted political coup.....
What are the first steps to tyranny, to dictatorships?
Having Political Leaders who are above the law, political leaders who can't be prosecuted for any crimes, political leaders who use violence and thuggery to shield themselves from the rule of law.
Once that road is traveled true Democracy dies.....The very tyrannies and dictatorships Trump bleats about on a daily basis is pure projection, the raging protests he is demanding on his behalf are the definition of a dictatorship, of tyranny....Trump wants to be above the law, he isn't.
Let's be perfectly clear, there is justice, not all of it is fair or even handed, those of power and wealth have a huge edge, Richard Nixon pardoned, Bill Clinton, outside of being impeached paid no price for his infidelity, George Bush and his war crimes etc etc etc....Trump has never paid a price for his lifetime of crimes, money bought his way out...however, there must be accountability at some level or Democracy dies..
Trump, on a minor crime he committed, that he knows won't amount to much, and certainly no jail-time is calling for mass protests and riots...and, along comes the Fascists hiding in plain site to perpetuate and push a dictatorship narrative...
Elon Musk, the Twitter owner who spreads conspiracy theories to attack Democrats, like the Paul Pelosi gay tryst BS, Elon Musk who told voters to vote for GOP and election deniers,..Elon who has a rightwing Fascist agenda, a man who also lies repeatedly stated on Twitter that if Trump is arrested next week
"If this happens, Trump will be re-elected in a landslide victory" Elon Musk
https://twitter.com/elonmusk/status/1637051525670264834
This isn't the first time Donald Trump has called for nation wide protests if any prosecutor charges him with a crime(s)...On January 31st 2022, in Canoe Texas Trump called for....
__________
Speaking at a rally in Conroe, Texas, on Saturday, Trump spoke about the local and federal probes targeting his businesses and political activities, including lawmakers investigating the Jan. 6, 2021, insurrection at the Capitol.
"If these radical, vicious racist prosecutors do anything wrong or illegal, I hope we are going to have in this country the biggest protest we have ever had … in Washington, D.C, in New York, in Atlanta and elsewhere because our country and our elections are corrupt,"....... Trump told the crowd of his supporters.
Trump accused New York Attorney General Letitia James (D) of launching a political attack against him. James claimed in a court filing last week that her office discovered evidence of Trump's company using "fraudulent or misleading" valuations of its golf clubs, skyscrapers and other property to secure loans and tax benefits.
His mention of Atlanta apparently refers to an investigation being led by Fulton County District Attorney Fani Willis into whether Trump and others acted criminally when trying to pressure Georgia officials into overturning President Biden's win in the 2020 election.
https://thehill.com/homenews/administration/592009-trump-calls-for-biggest-protest-weve-ever-had-if-prosecutors-do/
_______________
Can anybody, anyone with even half a brain not figure out that if you can't arrest a person for crimes, and or if you do arrest them for crimes that person will become, according to Elon Musk, president of the USA in a massive landslide?????? That friends and readers is a not so thinly veiled threat from Elon Musk....
Fortunately Elon Musk, outside of being a full-on Fascist, he's also wrong....Trump and Maga represent about 35% of the Republican base, a loud, violent group of deplorables.
Donald J Trump shouldn't worry so much about the Stormy Daniels case indictment....Jack Smith is coming hard and....But by far...The most perilous repercussions to Trump will be coming from..
Fulton County District Attorney Fani Willis.....Trump tried to strongarm Georgia elections officials with intimidation, threats and ....
Trump legal woes in Georgia are very serious, and easy to prove, the infamous hour plus long phone call to Brad Raffensberger.....That is where Trump is going to get smacked down...
On that phone call was not only Trump, Mark Meadows, Trump's chief of staff, plus several of Trump's attorneys, including the smoking gun proof the attorney Cleta Mitchell let slip out of the bag that Donald Trump was deliberately and knowingly lying on that phone call.
Also on the call was Brad Raffensberger's in house lawyer Ryan Germany...
First off, let me reveal a story that came out recently.....
__________________________
A report commissioned by former President Donald Trump's 2020 campaign found there was no proof of widespread election fraud that could have affected the results
The Berkeley Research Group conducted a "Project 2020" report commissioned by the Trump campaign that found "there was no reason to believe the final vote totals in five key states were fraudulent" and undercut or disproved the Trump campaign's fraud allegations
The Trump campaign's claims there were thousands of cases of dead people voting or people voting twice to change the election results were disproved, with the report finding there were less than 25 instances of dead voters in Georgia or up to 20 in Nevada.
It also ruled out any widespread fraud through mail-in ballots as the Trump campaign alleged, performing tests based on conspiracy theories including so-called "ballot harvesting" in nursing homes, fake voters casting ballots and "bursts" of ballot application submissions that could have suggested widespread fraud.
The report was never made public and the Trump campaign buried its results, with the Post reporting the findings were "a source of frustration" for Trump advisers and a meeting with the Berkeley team and Trump's team—which Trump was present at—in December 2020 "grew tense."
Trump continued to push fraud claims that were disproven by the report, with the Post noting his call with Georgia Secretary of State Brad Raffensperger (R)—in which he suggested "close to 5,000 [dead]
people" voted, a claim the report directly refuted—took place one day after the report came out in January 2021
____________________________________________
So, now it's been revealed, that the Trump campaign commissioned a report, paid for the report, a report that clearly stated there was no widespread voter fraud that could have changed the results of the 2020 election, and Trump had been made aware of this report the day before the infamous Georgia phone call..
A phone call where Trump lied about the amount of dead voters, according to his commissioned report..
A phone call where Trump made the claim to Brad Raffensberger that Ruby Freeman was a "well known professional vote scammer" ....Trump also claimed Ruby Freeman and her daughter Shaye Moss ran "18,000 ballots 3 times through the ballot scanner, all for Biden"
Yes indeed, Trump made those lies on that phone....Trump knowingly lied on that phone call, and here is the smoking gun.....
Cleta Mitchell, Trump's attorney, during the call Cleta claimed she watched the entire State Farm Arena video and she rebuffed Trump's assertion that 18,000 ballots were run through the tabulator 3 times...Then Trump on that Georgia phone call got noticeably pissed off at Cleta Mitchell for that statement she made about ballots not being scanned multiple times and then Trump quickly repeated the false claim about ballots run through 3 times.
Further on that aspect of the infamous phone call...Brad Raffensberger during that phone call offered to send Trump the entire State Farm Video, a video of the counting room in which Ruby Freeman and Shaye Moss were working...Raffensberger Told Trump that the entire video was watched, an entire uncut video not doctored by Gateway Pundit staff and or Rudy Giuliani, ...That's right, Raffensberger offered Trump the full video, uncut, where no ballots were counted 3 times......Trump stated, and I quote...."I don't need a link, I have my own link"
_________________________________________
Let me be perfectly clear....Trump and his campaign commissioned and paid
The Berkeley Research Group $600.000 dollars for a report titled "Project 2020" report commissioned by the Trump campaign that found "there was no reason to believe the final vote totals in five key states were fraudulent" and undercut or disproved the Trump campaign's fraud allegations, the
Post
reports based on a copy of the report.
Now, read this transcript from the Trump Georgia phone call, pay special attention to where Trump attorney Cleta Mitchell expresses much doubt about Trump's claim that Ruby Freeman and Shaye Moss ran 18,000 ballots 3 times...
Cleta Mitchell after stating she watched the entire State Farm video said she doesn't know about ballots being run through the tabulator multiple times...
In other words...Cleta Mitchell, who also read, before the phone call, the report debunking Trump's election fraud claims before the phone call.
Game over....Trump will be charged and indicted in Georgia, it's the next shoe to drop on Trump..
Here is the transcript ...From Trump and Cleta Mitchell, Brad and others on that criminal election interfering phone call...
Trump: But Cleta, even before you do that, and not even including that, that's why hardly even included that number, although in one state we have a tremendous amount of dead people. So I don't know — I'm sure we do in Georgia, too. I'm sure we do in Georgia too.
But, um, we're so far ahead. We're so far ahead of these numbers, even the phony ballots of Ruby Freeman, known scammer. You know the Internet? You know what was trending on the Internet? "Where's Ruby?" Because they thought she'd be in jail. "Where's Ruby?" It's crazy, it's crazy. That was. The minimum number is 18,000 for Ruby Freeman, but they think it's probably about 56,000, but the minimum number is 18,000 on the Ruby night where she ran back in there when everybody was gone and stuffed, she stuffed the ballot boxes. Let's face it, Brad, I mean. They did it in slow motion replay magnified, right? She stuffed the ballot boxes. They were stuffed like nobody had ever seen them stuffed before.
So there's a term for it when it's a machine instead of a ballot box, but she stuffed the machine. She stuffed the ballot — each ballot went three times they were showing: Here's ballot No 1. Here it is second time, third time, next ballot.
I mean, look. Brad. We have a new tape that we're going to release. It's devastating. And by the way, that one event, that one event is much more than the 11,000 votes that we're talking about. It's uh, you know. That one event was a disaster. And it's just, you know, but it was, it was something, it can't be disputed. And again we have a version that you haven't seen but it's magnified. It's magnified and you can see everything. For some reason they put it in three times, each ballot, and I don't know why. I don't know why three times. Why not five times, right? Go ahead.
Raffensperger: You're talking about the State Farm video. And I think it's extremely unfortunate that Rudy Giuliani or his people, they sliced and diced that video and took it out of context. The next day we brought in WSB-TV and we let them show, see the full run of tape and what you'll see, the events that transpired are nowhere near what was projected by, you know —
Trump: But where were the poll watchers, Brad? There were no poll watchers there. There were no Democrats or Republicans. There was no security there.
It was late in the evening, late in the, early in the morning, and there was nobody else in the room. Where were the poll watchers and why did they say a water main broke, which they did and which was reported in the newspapers? They said they left. They ran out because of a water main break, and there was no water main. There was nothing. There was no break. There was no water main break. But we're, if you take out everything, where were the Republican poll watchers, even where were the Democrat poll watchers, because there were none.
And then you say, well, they left their station, you know, if you look at the tape, and this was, this was reviewed by professional police and detectives and other people, when they left in a rush, everybody left in a rush because of the water main, but everybody left in a rush. These people left their station.
When they came back, they didn't go to their station. They went to the apron, wrapped around the table, under which were thousands and thousands of ballots in a box that was not an official or a sealed box. And then they took those. They went back to a different station. So if they would have come back, they would have walked to their station and they would have continued to work. But they couldn't do even that because that's illegal, because they had no Republican poll watchers. And remember, her reputation is deva — she's known all over the Internet, Brad. She's known all over.
I'm telling you, "Where's Ruby" was one of the hot items …Ruby Freeman, They knew her. "Where's Ruby?" So Brad, there can be no justification for that. And I you know, I give everybody the benefit of the doubt. But that was — and Brad, why did they put the votes in three times? You know, they put 'em in three times.
Raffensperger: Mr. President, they did not put that. We did an audit of that and we proved conclusively that they were not scanned three times.
Trump: Where was everybody else at that late time in the morning? Where was everybody? Where were the Republicans? Where were the security guards? Where were the people that were there just a little while before when everyone ran out of the room. How come we had no security in the room? Why did they run to the bottom of the table? Why do they run there and just open the skirt and rip out the votes? I mean, Brad. And they were sitting there, I think for five hours or something like that, the votes. But they just all happened to run back and go, you know, Brad…
Raffensperger: Mr. President, we'll send you the link from WSB.
Trump: I don't care about the link. I don't need it. Brad, I have a much better link —
Mitchell: I will tell you. I've seen the tape. The full tape. So has Alex. We've watched it. And what we saw and what we've confirmed in the timing is that. They made everybody leave, we have sworn affidavits saying that. And then they began to process ballots. And our estimate is that there were roughly 18,000 ballots. We don't know that. If you know that …
Trump: It was 18,000 ballots but they used each one three times.
Mitchell: Well, I don't know about that.
Trump: I do think because we had ours magnified out. Each one magnified out is 18 times three
Mitchell: I've watched the entire tape.
Trump: Nobody can make a case for that, Brad. Nobody. I mean, look, you'd have to be a child to think anything other than that. Just a child. I mean you have your never Trumper…
Mitchell: How many ballots, Mr. Secretary, are you saying were processed then?
Raffensperger: We had GBI … investigate that.
Germany: We had our — this is Ryan Germany. We had our law enforcement officers talk to everyone who was who was there after that event came to light. GBI was with them as well as FBI agents.
Trump: Well, there's no way they could — then they're incompetent. They're either dishonest or incompetent, okay?
Mitchell: Well, what did they find?
Trump: There's only two answers, dishonesty or incompetence. There's just no way. Look. There's no way. And on the other thing, I said too, there is no way. I mean, there's no way that these things could have been you know, you have all these different people that voted but they don't live in Georgia anymore. What was that number, Cleta? That was a pretty good number too.
Mitchell: The number who have registered out of state after they moved from Georgia. And so they had a date when they moved from Georgia, they registered to vote out of state. And then it's like 4,500, I don't have that number right in front of me.
Trump: And then they came back in and they voted.
Mitchell: And voted. Yeah.
Trump: I thought that was a large number, though. It was in the 20s. The point is…
Germany: We've been going through each of those as well and those numbers that we got that Ms. Mitchell was just saying, they're not accurate. Every one we've been through, are people that lived in Georgia, moved to a different state, but then moved back to Georgia legitimately. And in many cases
Trump: How many people do that? They moved out and then they said, "Ah, to hell with it I'll move back." You know, it doesn't sound like a very normal … you mean, they moved out, and what, they missed it so much that they wanted to move back in? It's crazy.
Germany: This is they moved back in years ago. This was not like something just before the election. So there's something about that data that, it's just not accurate.
Trump: Well, I don't know, all I know is that it is certified. And they moved out of Georgia and they voted. It didn't say they moved back in Cleta, did it?
Mitchell: No, but I mean, we're looking at the voter registration. Again, if you have additional records, we've been asking for that, but you haven't shared any of that with us. You just keep saying you investigated the allegations.
Trump: But, Cleta, a lot of it you don't need to be shared. I mean, to be honest, they should share it. They should share it because you want to get to an honest election.
I won this election by hundreds of thousands of votes. There's no way I lost Georgia. There's no way. We won by hundreds of thousands of votes. I'm just going by small numbers when you add them up they're many times the 11,000. But I won that state by hundreds of thousands of votes.
_______________________
The entire transcript can be found here..
https://www.cnn.com/2021/01/03/politics/trump-brad-raffensperger-phone-call-transcript/index.html
Entire phone call here..
https://www.youtube.com/watch?v=AW_Bdf_jGaA
_____________
The Trump commissioned Berkeley report and the Cleta Mitchell utterances prove beyond a shadow of doubt that Trump and Cleta Mitchell, along with the others from Trump's team on the call knew Trump was lying....Trump's lawyers, and Trump lawyer Cleta Mitchell knew Trump was lying when he said ballots were being scanned 3 or more times....
Cleta Mitchell said she watched the entire State Farm video featuring Ruby and Shaye and Cleta Mitchell stated that she knows of no ballots being scanned multiple times..
Cleta Mitchell is guilty of crimes, should be disbarred....As for Trump, he will be indicted in New York, in Washington D.C. and in Georgia...
And if MAGA deplorables rage and protest in the streets....
Trump will applaud those trouble makers and continue to drive his supporters down tyranny road and drive America brick by brick into a third world tyrannical dictatorship where political leaders are above the law..
And for those wondering why a Canadian writer would care.....Just imagine a mini civil war, Trump somehow gains the presidency, with an agenda of retribution...Do you really think Trudeau and Canada won't be in Trump's crosshairs?
The time is now for all Trump prosecutors to indict...Fani Willis in Georgia, Jack Smith in New York....All need to indict Trump.....Either we end this madness now or bring it to a head..
Ruby Freeman and Shaye Moss will drive the last Trump coffin nails home.
https://www.msnbc.com/the-last-word/watch/lawrence-ga-grand-juror-says-evidence-against-trump-will-be-massive-once-public-165385797795?cid=sm_npd_ms_tw_ma&taid=6413c29f4b0ba20001820da5&utm_campaign=trueanthem&utm_medium=social&utm_source=twitter
Time for the tiny vocal minority to have their day....a day against the National Guard and law enforcement, time to play for keeps.
Trump's insanity has gone on long enough......End it
The Straight Goods
Written by Grant G