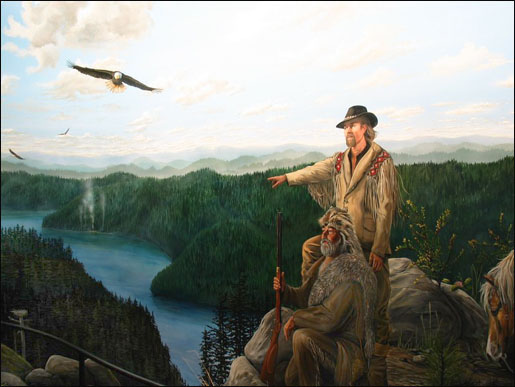 "......I awoke last night to the sound of thunder, how far off I sat and wondered, started humming a song from 1962, ain't it funny how the night moves ,when you just don't seem to have as much to lose, strange how the night moves with autumn closing in......"
Silk road riches and the fountain of youth, fleeting, mythical, shrouded in greener pasture aspirations...
Can you picture it in your mind, three sets of eyes gazing, intensely scanning the horizon for any signs of life, early explorers and sailors charting new territories, seeking discoveries of the unimaginable, and in particular, seeking new trading customers....indeed..
Christy Clark and company have embarked...
"These are the voyages of the starship Enterprise
(SS Gasboot
). Its five-year mission: to explore strange new worlds, to seek out new life and new civilizations, to boldly go where no man has gone before"...
Yes, Christy Clark has set out on a LNG trade mission......"The premier of Canada's British Columbia province, Christy Clark, on Monday began her seventh trade mission to Asia seeking new markets for BC's liquefied natural gas industry"
I remember Christy Clark's first LNG trade mission, funny how I remember.....
Not quite sure what the high priestess of wink wiggle and word salad is selling, British Columbia owns no LNG facilities, in fact the province owns nothing tangible, we don't make government widgets and have no state/national or provincial made and manufactured goods for export at all, ...in truth we only have one provincially owned asset we export....that being contracted to buy from privately owned run of river hydro-electric producers and from all the financial reports available on that file......buying electricity at $110 per megawatt hour and selling it for $10 dollars doesn't make good business sense.....Perhaps that partly explains cash-strapped BC Hydro's latest bully antics towards the holder of debt, the ratepayer....
There is a new telephone option available when calling BC Hydro...you know, push 1 for reporting an outage, push 2 ...push 3......the new option is for information on security deposits...What is a BC Hydro security deposit ?....Well, apparently BC Hydro now demands residential customers who make a late payment to give to them a security deposit of hundreds of dollars....It has come to my attention that as of late BC Hydro issued security deposit demands to tens of thousands of customers, so many in fact that BC Hydro has had to add their automated telephone system...A brand new section dedicated to residential customer security deposits....
When did BC Hydro turn into a thug, what drove BC Hydro to act like leg breakers....Perhaps you think I'm over-blowing this new security deposit thingy....Well, when a person, in one case a senior citizen who has had a BC Hydro account at the same address for over 40 years....This particular senior who had some medical issues and was late on a couple of payments....a 40 year account, in the arrears for $400 dollars and even when the senior paid BC Hydro in full they still demand a security deposit in the sum of near $500 dollars....hmm, .......I wonder if BC Hydro is demanding security deposits from hundreds of thousands of customers isn't just a gambit to gather up hundreds of millions of dollars, you know, that pesky $17 billion dollar debt and growing debt at BC Hydro....Something is up, security deposit information is almost the first telephone option BC Hydro offers up on their..
BC Hydro, a mafia thug....BC Hydro is forced to hand over hundreds of millions of dollars in dividends to the Christy Clark BC Liberal led government...dividends usually come from profit, how is it BC Hydro pays dividends to government when the only part of BC Hydro's wide portfolio growing is debt...
Christy Clark has been blathering about LNG for 5 years...been premier for over 3 years and now she ventured out on her 7th LNG trade mission(real estate/education selling excursion)...
I remember some of the earlier trade missions..to China...Japan...Korea...Christy Clark even went to New York and tried to lure big hedge funds into buying the LNG dream...
7 trade missions.....interesting, not one final investment decision and still the premier lauds her LNG lark....why, why is the media still giving this BC Liberal government the time of day when it comes to LNG tales...I remember, funny how I remember..Steelhead LNG..Altagas...BG Gas...EnCana...Woodfibre ..Quicksilver..Shell...Sinopec..CNOOC.....I remember Christy Clark's fantasy like LNG predictions
....
"2 LNG export plants up and running by 2015... 100,000 LNG jobs...money for northern communities...Money for First Nations...eliminate the provincial sales tax...retire crown debt and remove bridge and road tolls....a $100 billion dollar prosperity fund."..
Lark, what else can one say...again I ask..why does the mainstream media give these BC Liberals any print space when it comes to LNG?
90 climate scientists repeated the warning this week to the Federal Trudeau government....to be blunt they Called Petronas's LNG proposal a carbon bomb...they also debunked the fictional claims being made by BC Liberals and LNG spindoctors....There is no evidence that LNG sold to China will reduce coal use and or reduce world GHG totals....
This is what happens when the media allows a government to spin lies, embellish and invent hypothetical scenarios.....in other words..
"
repeat a lie often enough it turns into a perceived fact
".....
Shell Canada had all the permits required to build a LNG export terminal, they had First Nation support...a go-ahead from the BC Oil n Gas Commission...They had an environmental and export certificate...They had everything except gas-buying customers... Altagas had all the permits and First Nation support...The bankers pulled the plug on Altagas's LNG export terminal proposal....
These projects died because the economics to go forward in a LNG saturated market, a glut, with longterm LNG contracts being let for below what BC gas producers can get it out of the ground for...greed, greed stopped Altagas and Shell Canada....and even though Petronas is
"technically
" waiting for an environmental approval...even Petronas has publically stated that "
even if granted a environmental certificate to go forward, a FID is not assured
"..snip
And indeed I remember, funny how I remember....so outlandish were Christy Clark's LNG forecasts..She really conned the people, expectations of sacks stuffed with gold...endless jobs, money money and more money....it was sad to see the gas workers of the north protesting, or should I say
"rallying
" to have Petronas's LNG export plant approved....a group of uninformed gas workers rallying to create the biggest GHG emitter in Canada...increase BC's total GHG emissions by 30%...Destroy one of the top three wild salmon producing rivers in Canada...and for what?..200 longterm plant jobs and a few hundred longterm spinoff jobs...all while destroying even more jobs related to the Skeena salmon....
It saddens me that the Haisla First Nations were counting LNG chickens before they hatched...
___________
"Activity on both the $25-billion to $40-billion Shell-led LNG Canada project and the $12-billion Chevron-led Kitimat LNG project proposed for the Kitimat area in northwest B.C., where the Haisla claim traditional territory, have slowed to a crawl.
When, and if, the projects could go ahead is unclear.
Like other proposed liquefied natural gas projects in British Columbia, they are facing setbacks because of a glut of natural gas supplies, prices that have slumped significantly and a shaky global economy. The major energy players, including Shell and Chevron, have reduced their capital spending plans by tens of billions because of significantly diminished revenues from low oil prices.
No players have made final investment decisions on the projects meant to tap into energy demand in Asia.........
Premier Christy Clark, whose government continues to remain confident a major LNG project will be launched soon, is in Asia this week to promote trade, including in LNG.
However, energy industry analysts expect that major LNG projects in northwest B.C., if they happen at all, will be delayed into the next decade.
For the first time, the Haisla are examining newspaper owner David Black's $22-billion oil refinery proposal, of which industry analysts are skeptical. Analysts are skeptical because Asian markets typically want unrefined crude oil, and no new major refineries, particularly isolated from refining centres in Edmonton or the Gulf of Mexico, have been built in decades in North America.
Black's plan proposes that molasses-like bitumen from Alberta will be supplied by rail to the refinery."
http://vancouversun.com/business/energy/haisla-nation-in-tough-waiting-game-as-lng-delayed
______________
The Haisla were promised so much by the BC Liberal Government and now they are willing to buy David Black's snake oil by the gallon, man oh man, talk about lowered expectations...the Haisla went from cashing in LNG riches to hoping the federal Trudeau Government gives the media mogul David Black $30 billion for a refinery......the Haisla Nation should Look to the 6/49 or Lotto Max to fulfill their financial dreams ..Better odds there than betting on Black...!
And here today...on the front page of the Vancouver Sun dead-tree edition(Friday paper)..Is another LNG article....This one by Rob Shaw, he's reporting on the blatherings of one Gordon(flip) Wilson...Christy Clark's LNG promoting guru told an audience in Saanich that ....and I quote..
____________
"
B.C. has 'moral obligation' to develop LNG industry", says government advocate
"
So let me just say this, when you've got 500,000 Chinese dying each year attributed to air pollution specific to coal — and somebody finds that funny, I don't," Wilson said, interrupting himself to shoot back at a heckler.
http://vancouversun.com/news/politics/b-c-has-moral-obligation-to-develop-lng-industry-says-government-advocate
Remember that lie..BC Liberals lying about BC LNG cleaning Asia's air...it is a lie, that heckler(s) in Saanich is correct...that is what the media should be doing, heckling and laughing at those BC Liberal made up claims...so now, according to Gordon Wilson, ..British Columbia should take it on the chin, or should I say, take it in the lungs to help our Asian neighbours...
Gordon Wilson's LNG Lark tour......18 LNG proposals and not one FID....the only proposals of the 18 still sniffing around B.C. is one from an Indonesian criminal and the other from a state owned energy company..and the state involved is Malaysia.. ..a country where the Prime Minister has robbed the country and embezzled what appears to be $billions of dollars..a one Najib Razak, the $billion dollar bribe man...
Now Najib Razak, the man ultimately responsible for Petronas is forced to sell domestic LNG assets to the Russians and others...are these the moves of a company building LNG assets or liquidating LNG assets?
https://hornbillunleashed.wordpress.com/2016/05/24/russian-state-oil-firm-may-buy-petronas-assets/
http://www.lngworldnews.com/jx-nippon-buys-stake-in-ninth-bintulu-lng-train-from-petronas/
http://www.lngworldnews.com/report-jera-targets-petronas-lng-assets-acquisition/
"
B.C. has an ethical obligation to China to develop LNG"
says Gordon Wilson...
Does that mean those companies who declined for financial reasons to develop the proposed B.C. projects are by default murderers of the Chinese...should not life over profits be the deciding factor..
Gordon Wilson should fly to China and tell the families of those who had loved ones die from air pollution and tell those Chinese that they need to pay higher prices for LNG before they can be saved from inevitable air pollution.death!
I remember...funny how I remember....I remember Christy Clark blathering during the 2013 B.C. election how Asia was going to make B.C. rich..the land with no sales tax, no debt, a $100 billion dollar prosperity fund...Japan in particular according to Christy Clark was going to pay 5 times the North American rate and make B.C. rich....and now Gordon Wilson says British Columbia has a moral obligation to save China....Who will Gordon Wilson give condolences to when these big energy companies decline to build for financial reasons...500,000 dead Chinese per year at the hands of British Columbia.....Gordon Wilson's LNG Lark tour...indeed!
Yea....I remember... I remember BC Hydro was once a honourable proud company...now a mere BC Liberal echo chamber...I remember when the media had an ounce of integrity...
Morals and ethics....British Columbia LNG to save the Chinese from air pollution deaths.....
Who is going to save us in British Columbia from a clouded media and delusional BC Liberal Government...
"......I awoke last night to the sound of thunder, how far off I sat and wondered, started humming a song from 1962, ain't it funny how the night moves ,when you just don't seem to have as much to lose, strange how the night moves with autumn closing in......"
The Straight Goods
Cheers Eyes Wide Open