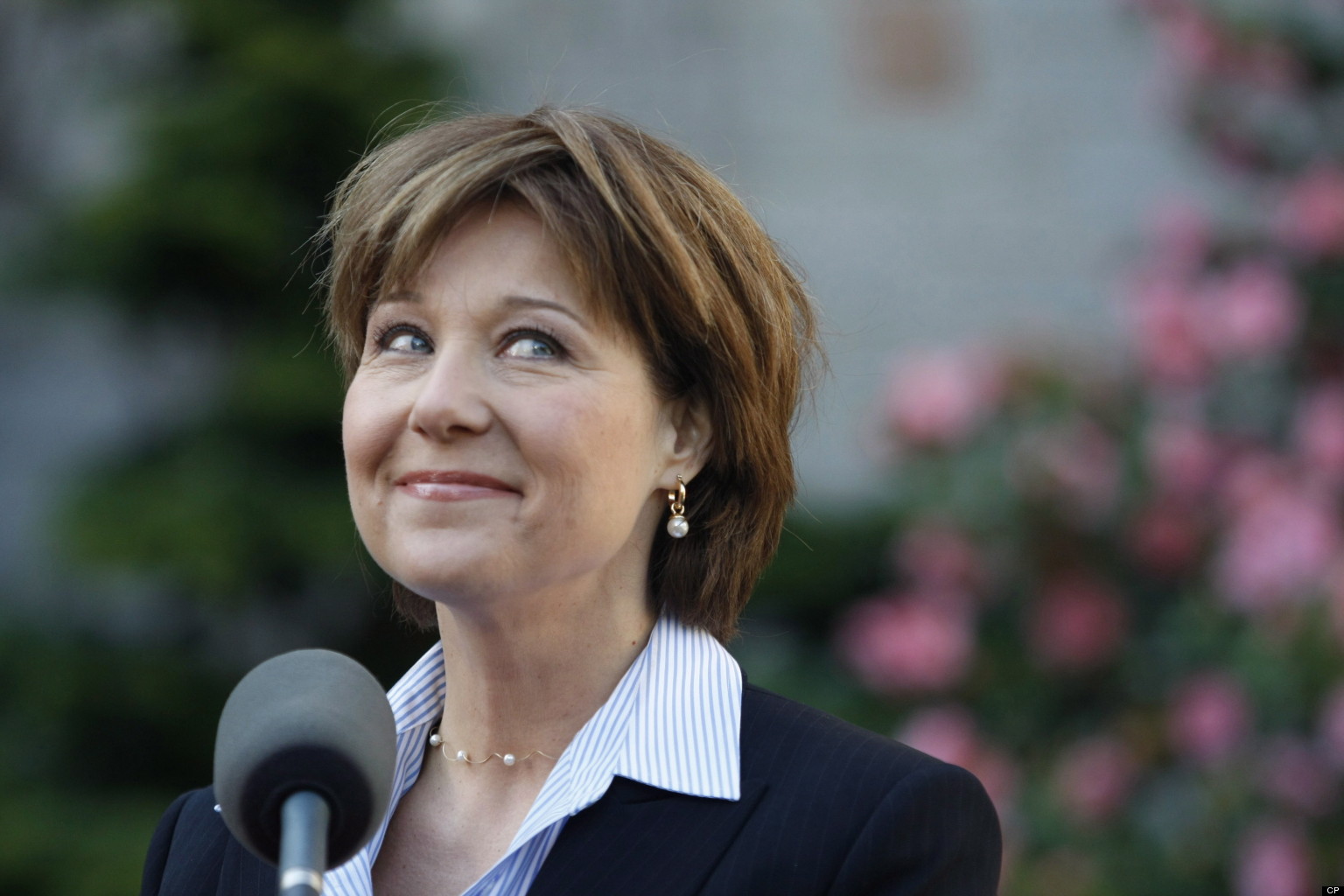 Today the Christy Clark led BC Liberal Party will present another delusional throne speech...
The Site C dam proposal will be front and center in the throne speech, false assumptions will made in trying to justify the $15 billion dollar project...$15 billion dollars BC Hydro will have to borrow to build the monstrosity..
Site C dam...Alberta will not buy that power...There is no transmission line even available, Christy Clark wants the federal Government to pay for the transmission line from Site C to Alberta...The feds won't pay for the line....Christy Clark's throne speech will also carry on with promoting her LNG delusions..
Shell Canada LNG will not be proceeding with their now-delayed terminal proposal...Petronas is set to cancel their project in early March/2016..
Christy Clark, despite balanced budget claims has racked up $30 billion dollars of public debt in her short reign as premier..
Unfortunately British Columbia's legislative reporters and scribes have failed in their role as journalists and public good guardians...These people, Tom Fletcher, Keith Baldrey, Vaughn Palmer and Michael Smyth have morphed into partisan BC Liberal spindoctors..
Anyway...This posting is short and simple...
Pakistan has just signed a longterm LNG buying contract with the world's largest LNG exporter Qatar..The price is so low that it completely shuts out Shell Canada and Petronas...Those companies can't frac the gas and deliver it to the westcoast for the "new normal LNG price"..
_____________
Under the 15-year deal, Qatar will supply 3.5 million tonnes per annum of LNG to Pakistan, Reuters reported on Monday.
A report by Pakistan Today says that the country negotiated a "very attractive price" of $5.35/MMBtu as compared to $$6.56/MMBtu which was agreed in 2013, due to declining oil and gas prices.
Pakistan's Economic Coordination Committee recently approved Pakistan State Oil's 15-year LNG sale and purchase agreement with Qatargas.
On a proposal of Ministry of Petroleum & Natural Resources, the Committee "approved signing of the LNG sale purchase agreement (SPA) with Qatargas for a period of 15 years and authorized the PSO to execute the SPA under government to government arrangement after completing the due process," ECC said.
It was reported in November last year that PSO agreed to import 1.5 million tonnes of LNG per year under the long-term deal from the world's largest LNG producer.
Pakistan began importing LNG in March 2015 in order to replace conventional fuels to fire its power stations.
The country is importing chilled gas through Excelerate Energy's 150,900 cbm FSRU Exquisite, which is chartered by Engro Elengy, located at the Port Qasim in Karachi.
The Port Qasim facility received 17 cargoes or one million tons of LNG by the end of December.
http://www.lngworldnews.com/pakistan-qatar-to-ink-lng-deal/
________________
Does Christy Clark need more ammunition for her throne speech...?
India is demanding cheap LNG from Australia...this LNG is going to be used as back-up power for India's surging renewable energy industry..
____________
India and Australia on Monday formed a sub-group to prepare a roadmap that would look into ways in providing cheap LNG for power plants in the south Asian country.
"
India is willing to consider long-term fixed price contracts for the supply of gas which will enable power producer to enter into a power supply contract at an affordable price," India's Power and Coal Minister Piyush Goyal said in a statement released by the Ministry of Petroleum and Natural Gas.
Goyal was addressing a roundtable in Brisbane, Australia on Monday on the business opportunities for LNG and coal bed methane. He further stated that opportunities to control the entire value chain right from gas production, liquefaction, shipping, re-gasification and power generation can be evaluated at the current "historic low prices of many of these activities".
According to the Minister, India is running one of the world's largest renewable energy programme which aims to increase the capacity 5 times to 175 GW over the next seven years.
"This will require gas based plants which can act as spinning reserve and supply power during deficit times of day (like evenings) when renewable energy production reduces while stabilizing the grid," he said.
He added that since coal-based power is available in India at less than 5 cents per unit, the LNG providers should consider supplying gas to India at a price that is comparable.
http://www.lngworldnews.com/india-wants-cheap-lng-from-australia/
_____________
These new prices render British Columbia's LNG proposals uneconomical..money sinkholes...
Oh, and in case you fine folk missed the news from Queensland Australia...Their LNG industry is a complete and utter disaster...
__________________
Queensland's collapsing LNG Industry
In all wars, there is collateral damage and, in this case, the damage from the oil price war has fallen on the LNG industry, particularly the Australian onshore gas industry in Queensland which has some of the highest production costs of gas on Earth.
Thus the big three companies operating in Queensland – Santos, Origin and QGC – are starting to discover just how bad a folly they have committed.
Gas in Queensland is all about exporting liquefied natural gas (LNG) to Asia, and to this end all three companies built mind-numbingly expensive LNG plants at Gladstone.
These three plants cost – figures vary, but at least - $60 billion to build and even now one can't help wondering what on Earth they were thinking?
Of the big three in Queensland, QGC are best placed to survive. QGC is the onground manifestation of BG-Group, which is in turn contemplating a merger with Royal Dutch Shell. However I will refer to them as QGC for this Australian-based article.
QGC, through their parent, have staggering amounts of capital available to them, and so will not go bankrupt. However, their Queensland CSG-to-LNG business is the worst performing arm of their global business and so even they must be currently looking at the Queensland books and wondering how long they are prepared to run an underperforming asset.
Of the other two, we are already hearing that Origin – who feed their coal seam gas into the US$17.5 billion APLNG plant at Gladstone – are in all sorts of trouble. Moody's Investor Service indicating that, already, they cannot service their monster debt on the plant.......
ll clarify those costs here: The production costs of the gas Santos feed from the CSG fields in the western Darling Downs, around Roma, run at US$3.50 at the current exchange rate of 0.7, liquefaction and shipping fees, another US$3.50.
Total production costs therefore stand at US$7 even.
Santos produced 544,000 tonnes from one train at the GLNG plant in ten weeks of quarter four of 2015.They claim they will have train two operational in quarter two of 2016, and if that optimistic forecast comes true, and train two produces at a similar rate, then Santos will produce approx 3.8 million tonnes in 2016.
With the Goldman Sachs forecast price of the JKM at US$5.80/Gj, and therefore Santos's projected price for the year at US$6.80/Gj, then Santos will lose US$0.20 on every gigajoule they produce.
That would leave a net loss of US$41 million for the 2016 year.
2016 is a startup year, so tonnes produced will run, as I say, around 3.8 million tonnes, however the nameplate capacity of GLNG is 7.8 million tonnes, so let's examine that.
If, against all the history of engineering Santos miraculously double production for 2017 to 7.8 million tonnes, then that unfortunately for them coincides with the forecast price of Santos gas going down again, to US$5.91.
There are 54.5 gigajoules in a tonne by the way, so the total loss can be calculated by tonnes x 54.5 x margin, which for 2017 would show a loss on GLNG of US$463 million.
In 2018 the price descends again to US$5.49, what the Queensland LNG companies pray is the cellar, but there is no certainty on that I can assure you. This low price is also projected for 2019.
And thus Santos shows a loss, if in full nameplate production, in 2018 and in 2019 of US$641 million each of those years.
Leaving a simply staggering grand total of US$1.79 billion combined loss over four years.
https://independentaustralia.net/business/business-display/queenslands-collapsing-lng-industry,8620
_____________
I'm Looking forward to the B.C. Liberal Throne Speech..
Christy Clark's LNG fantasy is over, the new longterm prices being inked by Asian countries have made British Columbia LNG a stranded asset...It costs more to get it out of the ground than what it can be sold for..
Which makes B.C. LNG export economically not viable...In other words Shell Canada and Petronas will not proceed...And as for the small LNG proposals..well..
"

A fool and their money soon part ways"
The Straight Goods
Cheers Eyes Wide Open