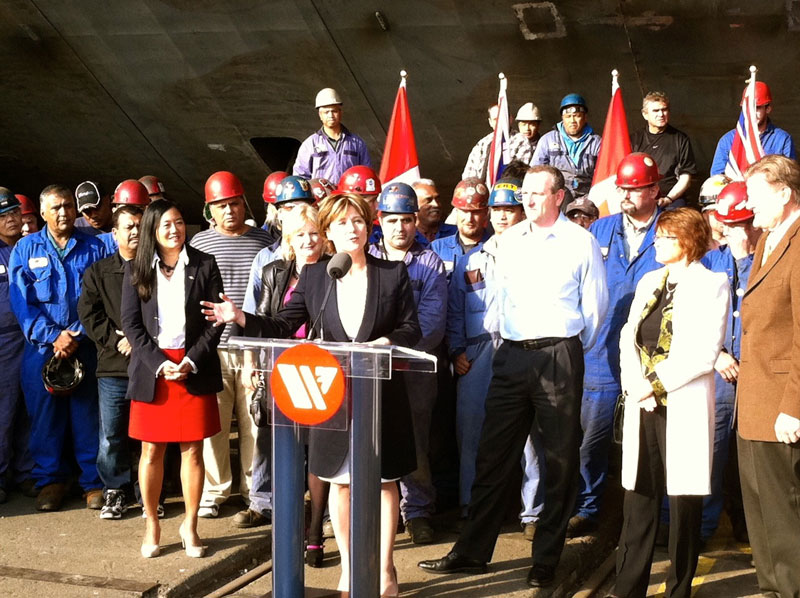 Picture is of Christy Clark pandering and politicking at Seaspan Shipyards in 2011...remember Stephen Harper`s grand ship building contract, all that money...it was 2011...it is now 2014..still no ships under construction, same con job at the Irving shipyards in Halifax.....I`ll gladly pay you Tuesday for a hamburger today, or a vote...sigh!
Written by Grant G
I`m not sure what has disgraced our province more, Christy Clark as the leader and face of British Columbia or a corporate media that cheerleads failure.....?
Would you eat at a restaurant(again) where you previously berated the waiter, the waitress, returned your food and refused to pay, cussed out the management and spit on the floor..
Would you trust having your vehicle serviced at a garage where you previously bounced checks, called into doubt the mechanic`s credentials, made rude and derogatory comments towards the garage....?
Probably not...there are plenty of other restaurants and service garages seemingly on every corner, water under the bridge, move on and spend your dollars elsewhere, however, public education isn`t everywhere, one place, one group, one set of teachers tasked to care for and teach your most valued asset, ......The Child.
Sign a labour contract, dot the I(s) and cross the T(s) and all is back to normal.....And all is back to normal...? really, just like that, happy smiling teachers, really, ...Teachers with no memories, no feelings, no remorse, no regrets just happy smiling teachers ready to teach little Billy and Sally, what grudges, what get-even thoughts, it doesn`t matter if teachers are now looking at PAY-UP notices coming through their mail slot, matters not that 1000s of teachers cancelled well-needed summer vacations, ......
Money, it`s one thing not to get more money it`s quite another to have dependable money stolen away, Christy Clark by taking monies away from teachers in her ongoing vendetta against teachers and her late dad has done more harm than can be imagined..
It will take years and years for the stench to fade, how motivated would you be to teach those BC Liberal parent`s kids, teachers can do their job, or they can do their job, must teachers be upbeat, motivated, ready and willing to work their butts off preparing your child for the future, or they can just do the minimum, score exams and hand out assignments...
Christy Clark is toxic sludge and no teacher settlement negotiated or otherwise can put broken and busted up Humpty Dumpty back together again....
Public education will never be the same again in British Columbia and you can thank Christy Clark for that....
$40 dollar per day childcare payments, for the littler ones, the bigger students get nothing....
You know what they say about idle hands....1000`s of teenage boys n girls fending for themselves, nothing to do, no money just time, time to smoke dope, time to drink, time to steal, commit crimes, time to have sex with each other while parent(s) are working, or perhaps time to have sex with adult men, that as a means to get cash, cash for dope, booze..
Will you Christy Clark take personal responsibility for anyone`s child who becomes incarcerated, drug addicted, working the streets, in jail or worse, will you Christy Clark take responsibility for those teenage children who die on weekday afternoons?
Parents know all too well that children, especially teenagers need organized structure to keep them out of trouble, teenagers need walking around money...
How come you Christy Clark want older teenage children wandering the streets without a penny(nickel) in their pocket..?
Besides scarring public education Christy Clark .......There will be dead children as a result of your actions...furthermore, every teenage child should receive the same $40 dollars per day...call it walking around money.
__________
There is no money, no money for kids, teachers, no money for seniors, no money for government oversight into mining, resource extraction, no money for anything, our province British Columbia has been brought to its knees because Christy Clark`s Liberal gang of incompetents have bankrupted our province, our provincial debt not counting BC Hydro debt, BC Ferry debt, IPP contractual debt and PPP debt stands at $75 billion dollars up from $28 billion in 2001...
There are no unicorns, no fairy godmother, no magic gold pixie dust just staggering debt, courtesy of fiscal criminality orchestrated by the BC Liberals....and there is no LNG riches coming our way....
I mentioned atop this post, who has disgraced us more, Christy Clark or our media and the answer is...
Corporate media....
"
We are in a horserace with other countries, .....A trillion dollar once in a lifetime opportunity.....100,000 s of LNG jobs...revenue streams for northern communities, for First Nations.....Elimination of sales tax, ....our BC debt eliminated and a $100 billion dollar prosperity fund..."
Christy Clark promised British Columbia everything mentioned above for the last 3 years and during the 2013 election writ.....and guess what we as a province will be receiving?......NOTHING!
16 months since the election and LNG died.......Every project is dead except for the PETRONAS bid, that project involves giving away our finite resources to 5 national foreign governments...British Columbians are unaware that the PETRONAS project is not private industry, ...5 foreign governments involved...Malaysia...Japan...Brunei....China and India....not Shell..not Chevron, not Exxon Mobile, not Progress energy or Apache Energy...5 foreign Governments with equity shares...Hey Christy Clark...do you not realize that equity partners pay wholesale not retail.....
http://powellriverpersuader.blogspot.ca/2013/11/christy-clarks-preposterous-lng-fantasy.html
Christy Clark`s and Rich Coleman`s LNG tax framework has now been pushed to the end of the year 2014(or later), the LNG export tax framework was initially promised for September 2013..been delayed, stalled and now...
Now it has been all but scuttled, been notified that the new number, (the old number bandied about last year was a 7% LNG export tax) is less than 1% ..higher than 0% but less than 1%...
So why isn`t the media reporting this, this LNG taxation won`t be a secret very long, there is no reason to withhold this information from the public, these aren`t trade secrets or Colonel Sanders recipes, it won`t affect other countries vying for LNG investment, you can`t beat 0%....
Even at 0% taxation the margins are thin, too thin thus these companies are going elsewhere, they need a country with no environmental rules or enforcement, they need a country where the local populous can be used and abused, modern day servitude disguised as progress...
Even with that the PETRONAS bid is not a for sure, still in doubt.....
Here is how the announcement of the LNG taxation framework will go down, what I`ve been told....
The LNG taxation framework will not be announced UNTIL there is a final investment decision, meaning if PETRONAS delays their FID announcement the LNG taxation framework will be delayed right along with it.....
Assuming PETRONAS does commit to a LNG plant(If Canadian bankers lend them the money on very long-term conditions).....
What is currently planned is a big press conference featuring the head of PETRONAS and Christy Clark, the talk will be of $billions and billions in investment, they will talk hyper exaggerated job numbers and how great this will be for British Columbia.....And we still won`t know the LNG taxation framework....Christy Clark will saunter of the stage and leave the questions for Rich Coleman...
Only after all the balloons, all the media perks have been handed out, only after the public fanfare will Rich Coleman deliver the bad news, ...How times had changed, how the parameters were moved, new playing field in a tough global economy....Only after all that is said will Rich Coleman tell BCers that their proposed export tax is gone!.... 7% to 0%..
And if it isn`t 0% PETRONAS too will not build....Cue the media, they have no shame and Keith Baldrey will help sell this pig n a poke, in fact Keith Baldrey already knows about the double shuffle two step bullshit being planned for British Columbia....Vancouver Sun will promote the new deal as will the Globe n Mail...And if you have any doubt...
Check out the pre disappointment shilling being done....
http://thetyee.ca/Opinion/2014/08/22/New-BC-Think-Tank/
http://www.vancouversun.com/business/Cayo+Vancouver+biggest+winner+when+forests+farms+mines+well/9720865/story.html
The "new" government funded think tank claims that city folk are the big winners in resource extraction, all those new lawyers and finance people required, all the goods and services, all multiplying and doubling, tripling, spinning, churning, there is even a video where think tank spokeboob explains in a Martian/Greek/Geek dialect how raping our province is good for Vancouver.....It will even pay for teachers wage demands....oh the humanity...
Desperate days for Christy Clark....
And now for the Glob n Pale......
They published today pure tripe, unseasoned tripe, no orange sauce, no wild rice just plain tripe that stunk up my computer screen.....
What next Globe n Mail?......Are you going to start selling special edition Christy Clark underwear or are you going to declare your allegiance to idiot writing shills?
Absolute pathetic writing and shilling finding press pages, I`ll let one commenter from the Glob N Pale sum up the article...
KFB in B.C. wrote, and I quote.....
"What drivel! The globe should be ashamed for letting this bovine generated waste to be published. There is not one lng project on the go and is in all likely hood never will be. This is just cheap Schilling for a totally corrupt government. Shame."
What drivel! The globe should be ashamed for letting this bovine generated waste to be published. There is not one lng project on the go and is in all likely hood never will be. This is just cheap Schilling for a totally corrupt government. Shame.
With eyes on LNG boom, demand for construction workers in B.C. to rise
http://www.theglobeandmail.com/news/british-columbia/with-eyes-on-lng-boom-demand-for-construction-workers-to-rise/article20187870/
I couldn`t have said it better KFB.....
Our media, Canada`s media has turned into a moral disgrace, worse than the politicians, worse than Christy Clark, controlled by corporate means...
You Christy Clark deserve to be recalled, or jailed, a useless uneducated bitch.......See you in hell Christy Clark..
http://www.change.org/p/bc-citizens-recall-premier-christy-clark
Written by Grant G
P.S.....Well folks I`ve done it....cut the cable, no more cable TV, no more mainstream media...I`m strictly on line, internet only....no Global, no CTV, no CKNW...I feel like I have been cleansed....Join me...it`s the only way the media will get the message....CUT the CABLEVISION
The Straight Goods
Cheers Eyes Wide Open